We have our puppies' best interests at heart. We want to see them go to loving, permanent homes where they will be properly cared for. Our screening process helps ensure that each puppy is matched with a responsible and compatible owner. This process benefits you as well, by increasing the likelihood that you will go home with a pet that is a perfect match for your family and lifestyle.
Our application includes many questions about your home life, including how much time you spend at home, how active you are, whether you have other pets or children, and so-on. The purpose of these questions is to determine the type of puppy that would mesh well with your family; we want both you and the puppy to be happy. Each dog is an individual with its own personality, motivations, activity level, and needs and may not be suitable for every family.
Throughout the process, you will be asked to fill out a questionnaire and application, attend one or more interviews, provide references from your vet, pay an holding and reservation fee, and sign our sales agreement. There may also be a home visit, performed by us or an associate who lives in your area. It may be time consuming, but in the end you will end up with a puppy just right for you.
If you are uncomfortable answering these questions or opening up a dialogue, look no further for a puppy from us. We are responsible for the welfare and well being of every dog we bring into this world and will not place a one into an uncertain or nebulous situation. Before embarking on the first step to purchasing a puppy from us, please review our questionnaire, application, and sales contracts to make sure you are comfortable with all of them.
Our placement process is just the beginning of a lifelong relationship as we welcome you to join the extended Kaiju Kennels family. Like family, we will be here to support you and your puppy for its entire life. We look forward to receiving photos and updates from each and every family we place a puppy with.
Getting a Kaiju Puppy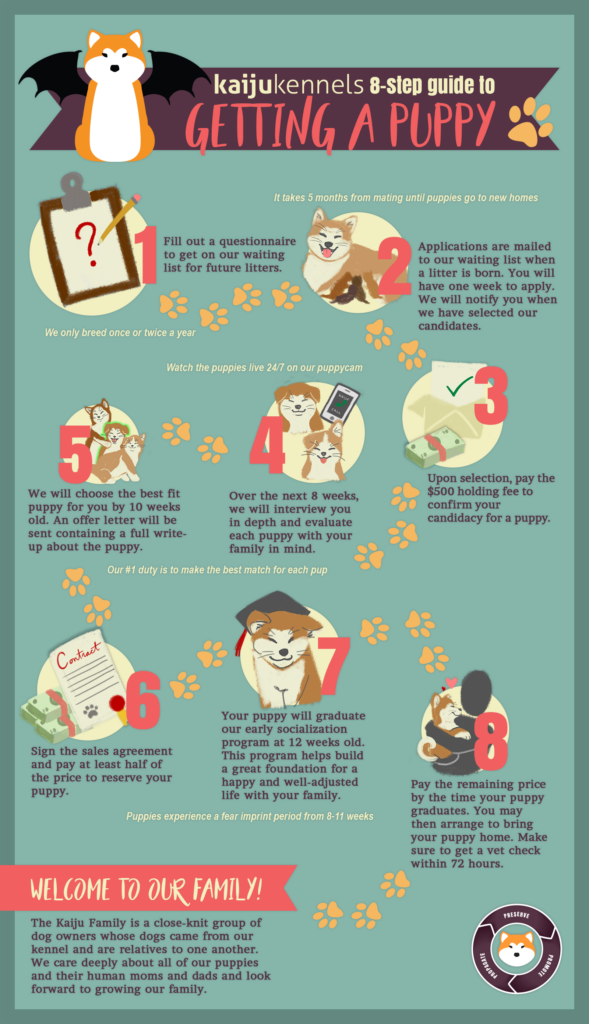 Fill out a puppy questionnaire to get on our waiting list for future litters.
Applications are mailed to our waiting list when a litter is born. You will have one week to apply. We will notify you when we have selected our candidates.
Upon selection, pay the $500 holding fee to confirm your candidacy for a puppy.
Over the next 8 weeks, we will interview you in depth and evaluate each puppy with your family in mind.
We will choose the best fit puppy for you by 10 weeks old. An offer letter will be sent containing a full write-up about the puppy.
Sign the sales agreement and pay at least half of the price to reserve your puppy.
Your puppy will graduate our early socialization program at 12 weeks old. This program helps build a great foundation for a happy and well-adjusted life with your family.
Pay the remaining price by the time your puppy graduates. You may then arrange to bring your puppy home. Make sure to get a vet check within 72 hours.
Welcome to the Kaiju Family! The Kaiju Family is a close-knit group of dog owners whose dogs come from our kennel and are relatives to one another. We care deeply about all of our puppies and their human moms and dads, and look forward to growing our family.